Maine Coon
Är en stor och robust katt med halvlång, silkig och lättskött päls.

Den är lekfull, sällskaplig, nyfiken samt vänlig mot alla.

Passar bra som innekatt.

S*Operacoon's Lady de Winther
Maine Coon
The Maine Coon is a large and heavy boned semilong-haired breed with a fur that is silky and easy to groom.




It is playful, curious and loves your company and is gentle and kind to everybody.



It is a perfect indoor cat.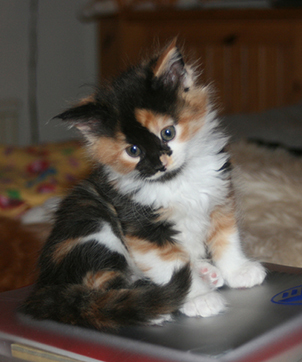 S*Operacoon's Fata Morgana
(Vurpan)
S*Operacoon's
Vi fastnade för rasen redan 1994 och gick då med i rasringen Maine Coon-katten. Ett halvår senare köpte vi vår första maine coon och började ställa ut samma år. Med uppfödning började vi sedan 1997. Familjen Hård består av Lasse och Marianne. Vi har som målsättning att föda upp katter som är friska både till kropp och själ, är trygga samt har en storlek som imponerar.
Vi HD-röntgar och HCM-scannar våra avelskatter. Vi är övertygade om att fokusera på ett hälsoprogram, oavsett ras, är nyckeln till att behålla en ras frisk och sund. Avelskatter säljer vi endast till registrerade uppfödare.
S*Operacoon's är ett medelstort katteri. För oss är det viktigt att vi får tid över till att mysa med varje kattunge. Kattungarna får när de är ca 6-7 veckor gamla börja träffa våra vuxna katter. Alla katter bor med oss och får mycket kärlek och omvårdnad. Vi är mycket stolta över våra katter.
För oss är det en väldigt stor förmån att få ha dessa vackra katter som hobby och då speciellt rasen maine coon, då den ger så mycket tillbaka. Vi tycker att kvalitet är väldigt viktigt och inte kvantitet.
Vi säljer endast avelskatter till registrerade uppfödare.
About S*Operacoon's
We were fascinated by the breed already in 1994 and therefore we joined the Maine Coon Club. Six months later we bought our first Maine Coon and started showing our beautiful female. It was first in 1997 that we started breeding. Our family consists of Lasse and Marianne. Our goal is to breed healthy Maine Coon cats which are gentle and have an impressive size.
We hip X-ray and heart screen our breeding cats. We believe that focusing on a health programme whatever breed is the key to keeping a breed healthy and sound. Breeding cats are only sold to registered breeders.
S*Operacoon's is a medium sized cattery. The kittens get much love and attention and when they are 6-7 weeks old they gradually start meeting our adult cats. All our cats live under foot and are much loved and cared for. We are very proud of our cats.
It is a great pleasure for us to have this beautiful Maine Coon breed as a hobby as they give us so much love in return. For us quality is much more important than quantity.
Breeding cats are only sold to registered breeders.
När vi levererar en kattunge är den 12 - 16 veckor gammal.
Den har stamtavla från SVERAK (FIFe).
Den är vaccinerad två gånger.
Den har ett besiktningsintyg utfärdat av veterinär.
Kattungen är chipmärkt.
Avmaskad vid behov.
Kattungen är försäkrad.
Vi använder oss av SVERAK:s köpeavtal.
We deliver the kitten at the age of 12-16 weeks.
The kitten will have a pedigree issued by SVERAK (FIFe).
The kitten has been vaccinated twice.
The kitten has a health certificate issued by our vet.
The kitten has a chip ID.
The kitten will be dewormed if necessary.
We issue a sales contract.
Oss hittar du på följande adress:
Marianne & Lasse Hård
Sättrabyvägen 134
762 97 EDSBRO
Tel:
0176-28 21 59
0704-222 064
e-mail: info@operacoons.se
You can find us here:
Marianne & Lasse Hård
Sättrabyvägen 134
SE-762 97 EDSBRO, Sweden
Phone:
+46-176-28 21 59
+46-704-222 064
e-mail: info@operacoons.se